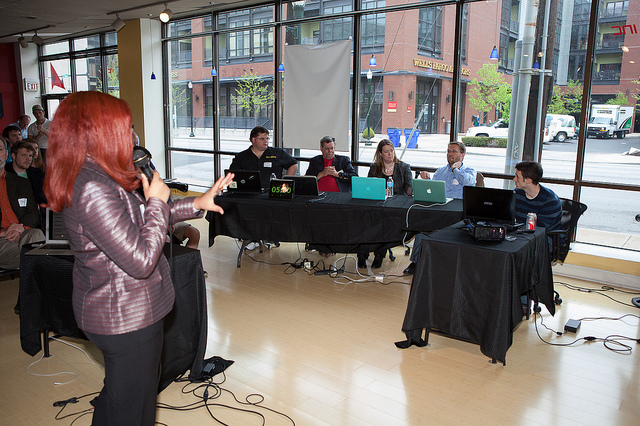 Mr. Hartman served as part of a four judge panel at the April 24, 2013 "5 Across" pitch competition in Lexington, KY.
5 Across is an informal gathering of entrepreneurs, investors, and service providers from Lexington, KY. Each 5Across meeting will features presentations from local entrepreneurs who pitching their ideas to a panel of judges.
From the 5 Across web site for April 24, 2013:
Teams included:

Arial Boulware pitched her idea for a 24/7 workspace for students to study, print, nap, and more. The business has no official title yet, but a working title is Growing Ambitions

LaShana M. Harris pitched Babylocity, a new baby bottle designed to make it easier for parents to mix powdered baby formula on-the-go.

Brock Klein pitched Givr, a native donor-facing mobile payments application optimized for giving.

Jeff Garrison, Darrin Croucher, and Andrew Wright pitched iReport360, an internet, cloud-based communication system for the construction industry.

Cyrus Adkisson pitched hoozon.tv, which watches a local TV station, uses biometric facial recognition to look for reporters' faces, then drives traffic to the station by automatically sharing the live stream via media personalities' social media posts.

Babylocity took home the $500 prize for their innovative baby bottle. They will be given the opportunity to pitch at the 5 Across Finals in December as well the Lexington Venture Club in May. Babylocity also won the audience text vote.

The night's excellent pitches and heavy turnout resulted in another great event for Lexington's startup community. Congratulations to all of the teams who participated and we offer a special thanks to our sponsors and friends who help make 5 Across happen! Be sure not to miss 2013′s third meeting of 5 Across Wednesday June 26th where five teams will once again compete for the $500 prize.