Stash is an MMORPG with turn based, tactical grid based combat, an incredible housing system, an engaging story shaped by its players, and much more. It takes place in the high fantasy world of Primordiax: the game world of all Frogdice games.
Stash was announced to the public at PAX East 2014.
Stash is the graphical successor to Threshold RPG: our text based, role play required game still in operation after 20+ years (since 1996).
Stash's core features include:
Turn based combat on a tactical grid.
Housing as a core feature. Your Base of Operations (BOO) starts as a humble bedroll and can be built and customized into a mighty fortress where you stash your loot.
Dungeons: Hand crafted as well as random, procedurally generated dungeons.
Massive character customization via class, race, build, gear, cosmetics, costumes, pets, mounts, and more.
Crafting: Use, sell, or enter items into competitions.
Exploration: A huge world for you to discover with hundreds of unique locations.
Awesome world story with a unique twist. Players affect this story and the entire world profoundly.
Clans: Join with friends and compete for dominance.
Loot: Tons and tons of loot, and with rare exceptions, we don't do bind on pickup/equip.
PvP: Optional group and solo PvP.
Community: The most incredible thing about Frogdice and all of our games is the community. Our players are a major reason our games are so special and their passion and love for our game world is part of a sacred trust we cherish.

Role playing at its finest since 1996
Threshold is a high fantasy, real-time, multi-player, online role playing game. Once you step across the Threshold you will be absorbed by the rich, detailed, highly developed role playing atmosphere that comprises this fantasy realm. You become the hero, the heroine, or even the villain depending on your character and your imagination. Role playing is not an option, it is a requirement. This creates and preserves the top notch role playing experience of Threshold RPG. Although there are places to speak and chat "out of character" within the game (after all, it is nice to get to know the people you are gaming with), outside of such areas players stay completely in character. Threshold opened in 1996, but development began in 1993.
"After spending some time in Threshold and seeing how it worked, this is the real theme of the MUD: a true roleplaying environment with an impressive vision… Roleplay is a fundamental aspect of Threshold and is of a high standard. Players stay in role and there are plenty of plots and storylines going down… I would just like to write "TRY IT!" but it deserves more than that. Threshold is a really splendid MUD. It has everything and more that this style of MUD should have." –

The Mud Connector

, the internet's oldest MUD/MMORPG site.
"Threshold is a 13-year-old role-playing MUD with an individuality that you simply don't see in today's EverQuest clones (eg. in its in-world legal system). It was The MUD Journal's highest-rated role-playing MUD for 3 consecutive years." –

Dr. Richard Bartle

, co-inventor of the first MUD/MMORPG.
"Threshold might be an old-fashioned text-based MUD, but it emphasizes roleplaying and story and boasts fervent players." –

Computer Games Magazine, Issue #156

ReignMaker is a city building political strategy game with match-3 tower defense combat. From your capital city you lead your Kingdom against the invading Void Army that threatens all life.
Your strategy, tower defense, and match-3 skills will determine the fate of your armies, but the many political decisions you make as a leader affect the story and the culture of your kingdom.
As your capital city improves, you will have access to more powerful spells, mightier elite troops, and better battlefield gear and armaments.
Along the way you will also earn achievements, complete quests, and fill your Bestiary with enemies.

Dungeon of Elements is an RPG dungeon crawler with combat inspired by some of our favorite classic puzzle games like Dr. Mario or Tetris. In Dungeon of Elements (DoE), core meets casual as we combine many different styles of gameplay in a fun, immersive experience.
The fledgling Alchemy Guild of Primordiax needs you to help restore its former glory. To that end, you will:
Explore 3 continents and 45 different dungeons.
Defeat 56 different enemy types and 12 bosses.
Enjoy a combat system inspired by classic puzzle games like Dr. Mario and Tetris.
Discover hundreds of crafting recipes through experimentation.
Craft legendary weapons and armor.
Customize your character with a tremendous variety of equipment options.
Find and befriend pets.
Unlock Achievements.
Collect scrolls to fill your Bestiary and study your foes.
Progress through the story and choose your own path.
Compete with your friends and other players to clear dungeons or the entire game fastest.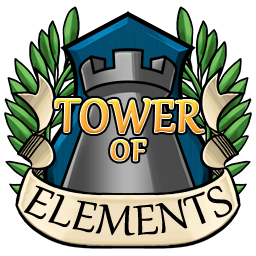 Match 3 + Tower Defense + RPG + Awesome
Tower of Elements is an innovative match 3, tower defense, role playing game. Play an elementalist who commands a magical tower against a relentless horde of monsters trying to breach your kingdom's walls.
Make strategic matches to launch powerful, elemental bolts at the Void Army. Gain experience to learn mighty spells and gather gold to buy epic gear and deadly siege weapons.
Collect scrolls with information about your foes to compile a bestiary that will aid your kingdom in preparing its defense.
Fast paced match 3 with strategic tower defense.
Collectible monster cards.
24 spells & 11 pieces of gear.
High level spells and gear are impressively epic.
90 levels.
10 chapter story in the world of Primordiax.
Pure Fun, Every Step of the Way
In Coin 'n Carry you are a medieval shop keeper trying to get ahead in the world. You play fun and exciting mini-games to gather resources and find recipes. You use these recipes to make wares for your shop, strategically stock your shelves, then open your shop for business.
Along the way you can upgrade your shop to attract new and more interesting customers, customize it to have a look that is all your own, collect rare and interesting items, collect pets, and compete on leaderboards against other shops. Every mini-game has leaderboards as well to compete against the world or just your friends.
In short, Coin 'n Carry is a delightful social community where you:
Play mini-games.

Craft items and sell them.

Compete on leaderboards with your friends or the entire world.

Build fun and interesting collections.

Help your friends, or be helped by them!

No boring grinds.

No painful clickfests.

Focus entirely on the fun, every step of the way.

Primordiax

Primordiax is the name of the game world where all of Frogdice's games take place. It was also the name of Frogdice's second text MUD. It was open for a little over a year before we made the decision to close it down. We found that running two text online RPGs split our player base and was ultimately not good for the community. Many of Primordiax's game features were ported into Threshold, and other game concepts were saved for future games (like Stash).