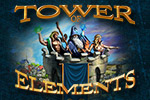 Tower of Elements is on another platform! This is a big one: Wild Tangent
So far WildTangent players seem to be really enjoying the game. It is selling well and receiving very positive fan response. An example of that:
Little Bear · 38 years old

This is an absolutely spectacular game. I have been playing it for hours and enjoyed it immediately. Some of my favorite things:

1) Unique take on match-3. There is a lot more gameplay depth here than your typical match-3 game.

2) Exciting! Fending off monsters from my tower gets very exciting and challenging at certain parts. And some of the boss battles are spectacular.

3) Cute graphics and relaxing music.

4) Performs great. I have played the game on my 4 year old netbook, my 2 year old PC, and my 6 year old laptop! The game ran great on all of them.

I can't wait for more games from Frogdice. Thank you!