I received this Tower of Elements review today and am sharing it with you all. The author will remain anonymous for now. Enjoy.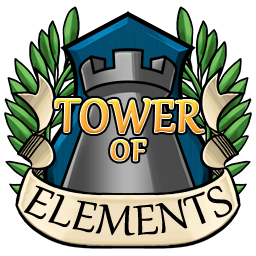 Tower of Elements Review
With few game providers now opting for simple games based on worldly themes, Frogdice stands in a world of its own as it continues to roll out such type of games. One of these games is Tower of Elements, a simple match three game in which you have to use complex problem-solving skills to help your village from the marauding murderous evil army. Tower of Elements can be played on several online casinos and you can also download the Tower of Elements app on your Android or iOS powered device. Here is what to expect from Tower of Elements.
Gameplay
In Tower of Elements, gameplay focuses on matching tiles of three sets. In order to attack the invading army, build a fortress for your village or to hit the rat running around at the bottom, al, you need is to strategically place your tiles so that you eliminate what you do not want replacing them with the tiles of your choice. Tower of Elements, however, is not as straightforward as other tile games because it comes with different weights to vertical and horizontal tiles. The levels in Tower of Elements are quite intriguing and you can subconsciously spend the whole day looking at the screen, as the game is addictive.
Plot
Tower of Elements does have a solid plot in that you have to safeguard your tower and protect your people. All this you have to do by simply organising your tiles wisely. The main threat to your people in Tower of Elements is from the evil commander on the other side of the village as he constantly sends his troops to raid and ambush your people and also to try and break into the tower. This means you and your people have to be vigilant at all times to rebuke the forces of the evil commander. However, you ought to know that there is also another side when it comes to Tower of Elements. Amongst your people there are some rogue elements that need to be weeded out after every now and then. When the evil commander's army reaches your village, they approach some of your people, bribe them to make your defence weak and hope to capitalise on that. It is your duty to know who has been approached and to deal with the person accordingly. It is this other side of Tower of Elements that makes the game such intriguing.
Theme and Graphics
The epic fantasy background of Tower of Elements sets you on a path of adventure. You play the character of King Rand who settled just behind a lone standing tower. For years, you and your people live in harmony before word reaches the evil army commander on the other side who becomes determined to destroy you and your village. As a result, you shift your village into the tower and you defend your village from the tower. Anticipating attacks and raids and blocking the army from gaining access into the tower.